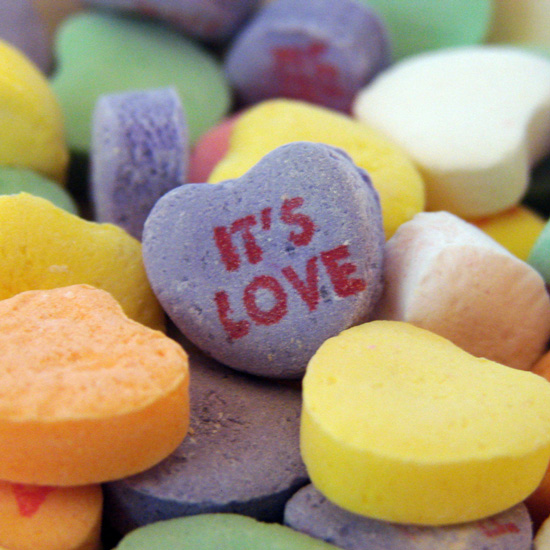 Love is in the air, and there is nothing as sweet as finding gluten-free candy options.  Celiac Disease Foundation is wishing you all a Happy Valentine's Day!
Candies listed below are considered to be gluten-free by their United States manufacturers as of the date of this posting. Celiac Disease Foundation recommends ingredient review to confirm gluten-free status as manufacturing practices may change. Consumers are advised to verify ingredients directly with the manufacturer when in doubt.
---
Hershey's
Reese's – all except seasonal shaped items
Mounds and Almond Joy (NOT Almond Joy pieces)
SKOR Toffee Bar
YORK Peppermint Patties- hearts
Scharffen Berger- all
Hershey's Kisses – milk chocolate
Hershey's bliss- milk chocolate with melt way Raspberry Center, milk chocolate and dark chocolate
Hershey's Strawberry Syrup
Jolly Rancher Candy- Including heart lollipops
Hershey's Milk Chocolate Bar (1.55 oz only)
Hershey's -Baking Bars
Hershey's Butterscotch chips
Hershey's Cinnamon Chips
Heath Bars
---
See's
According to their website, all See's Candies products are gluten-free.
---
Necco
NECCO® Wafers
NECCO® Chocolate Wafers
Candy House Candy Buttons®
Banana Splits® Chews
Haviland® Thin Mints, Wintergreen Patty, Nonpareils and Chocolate
Sweethearts® (Valentine's only)
NECCO® Conversation Hearts (Valentine's only)
Stars
Skybar®
Mary Jane®
---
Jelly Belly

"Jelly Belly jelly beans are gluten free, peanut free, dairy free, fat free and vegetarian friendly. All Jelly Belly jelly beans and most of our Confections are certified OU Kosher by the Orthodox Union.
For more information about Jelly Belly jelly beans
and Confections by Jelly Belly, please visit www.jellybelly.com."
---
Tootsie Roll Industries
"At this time, all of our confections are gluten free. We do not use wheat, barley, rye, oats, triticale, spelt or any of their components and that includes our dusting on our conveyor belts. We do use corn and soy products in the manufacturing of our products."
For more information, please visit http://www.tootsie.com/
---
Nestlé
Valentine Milk Chocolate hearts
Baby Ruth
Wonka -Lik-M-Aid Fun Dip
Wonka-Pixie Sticks
Wonka- Laffy Taffy ( including Laffy Taffy Rope and Fruitarts Chews)
Raisinets (including Cherry, Cranberry and Dark Chocolate flavors)
Milk Chocolate Goobers
Nips (including both regular and sugar-free)
Oh Henry!
Sno-Caps
---
Just Born
Mike and Ike Berry Blast
Mike and Ike Italian Ice
Mike and Ike Jolly Joes
Mike and Ike Lemonade Blends
Mike and Ike Original Fruits
Mike and Ike Redrageous
Goldenberg's Vintage Peanut Chews
Mike and Ike Tangy Twister
Mike and Ike Tropical Typhoon
Mike and Ike Zours
Mike and Ike Jelly Beans
Mike and Ike Hot Tamales
Non-flavored Hearts
Mike and Ike Valentine Treats
---
Peeps
Valentine Marshmallow-Bears
Chocolate Covered Raspberry Flavored Hearts
Chocolate Dipped Strawberry Crème Flavored Chicks
Chocolate Dipped Cherries Drizzled in Chocolate
Strawberry Crème flavored hearts
Vanilla Crème flavored hearts
Sugar Free Red Hearts
Hot Tamales
Goldberg's Peanut Chews- milk chocolate & original flavor
---
Smarties
According to their website:
"All Smarties® products are gluten-free and safe to eat for people with Celiac Disease. Furthermore, Smarties® products are manufactured in facilities that produce exclusively gluten-free candies. Smarties Gummies ingredients are gluten-free, but because they are made in a facility that process other ingredients, they may contain traces of peanut, milk, wheat and soy and are not recommended for those with Celiac Disease."