Valentine's Day is traditionally celebrated with a romantic meal in a romantic restaurant. For those of us with celiac disease or gluten sensitivity, that romantic meal can leave us brokenhearted. Worrying about menu options, cross-contamination, and wait staff that give lip service to our needs, it's enough to make us want to kiss off the holiday! This year, let CDF play Cupid and take an arrow to those worries with our tips on Dining Out. Or if you prefer to stay home and cook something up with your sweetheart, enjoy our lovable gluten-free recipes.
---
Kale Salad With Jones Bacon and Parmesan
Serves: 2
Approximate nutrition per serving:
537 calories, 12g carbs, 46g fat, 17g protein, 805mg sodium, 5g sugar
Ingredients:
Dressing
4 ounces (1/2 cup) mayonnaise or aioli
2 ounces (1/2 cup) finely grated Parmesan cheese
2 ounces (1/4 cup) freshly squeezed lemon juice
2 ounces (1/4 cup) garlic infused olive oil
1 tbsp Dijon mustard
1 tbsp Gluten-Free Worcestershire sauce
Kosher salt and fresh grated black pepper
Salad
3 ounces Tuscan/Lacinato/Dinosaur kale, cleaned, ribs removed and cut in 1/8 inch chiffonade
2 ounces (2 slices) Jones Dairy Farm Dry Aged Bacon, cooked, drained and cut in 3/4-inch pieces
1 tbsp shaved Parmesan cheese, for topping
Directions:
To make the dressing, emulsify all ingredients together using a blender or food processor; adjust seasoning. Cover and refrigerate. Dressing recipe makes enough for multiple salads.
To make the salad, in medium bowl, toss kale  and bacon with 1/4 to 1/3 cup dressing. Plate and top with additional cheese and freshly ground pepper.
More Recipes From CDF Proud Sponsor Jones Dairy Farm
---
Pamela's Crispy Cheese Crisps
Serves: 4
Approximate nutrition per serving:
214 calories, 10g carbs, 17g fat, 7g protein, 495g sodium, 0g sugar
Ingredients:
Dry ingredients
Wet ingredients
4 tbsp cubed, chilled butter
1 cup grated sharp cheddar cheese
1 egg
1 tsp ice water
Directions:
Mix dry ingredients, then add butter and cheese, just mixing until pea-sized pieces form. Add egg to water, mix well, then add to dry ingredients, mixing until a dough forms. Add a little more water only if dough will not form without it. Divide dough in half, forming into two disks, wrap in plastic, and chill for at least one hour.
Roll out dough between plastic and parchment to about 1/8-inch thick. Cut using a straight edge into 1/4-inch to 3/8-inch strips. Transfer parchment onto half sheet pan. Carefully stand the strips on their thin sides and form them into waves. Chef's note: Though traditionally twisted to form straws, we made waves with ours.
Bake at 400F for 10 to 12 minutes, until just starting to color. Remove pan from oven and place on cooling rack. Allow Cheese Crisps to cool before serving.
Chef's Note: An elegant way to serve the Cheese Crisps is to stand them on end in a heavy glass, like bread sticks.
More Recipes from CDF Proud Sponsor Pamela's Products
---
Seared New York Strip Steak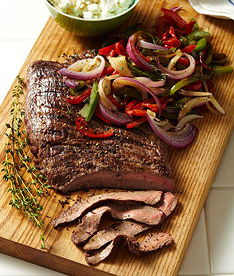 Serves: 4
Approximate nutrition per serving:
570 calories, 9g carbs, 32g fat, 62g protein, 547mg sodium, 3g sugar
Ingredients:
4 – 10 oz New York steaks
1 medium red onion, sliced
1 red bell pepper, sliced
1 yellow bell pepper, sliced
1 medium zucchini, sliced
Spices
1/2 cup paprika
1 tbsp salt
1 tbsp onion powder
1 tbsp garlic powder
1 tbsp cayenne pepper
1 tbsp white pepper
1 tbsp black pepper
1 tbsp thyme, dried
2 tbsp oregano, dried
Directions:
Spice Rub:
Mix spices together.
Steaks:
Brush steak with spices and sear on a cast iron skillet with hot oil. Cook for 4 minutes and turn to the other side and cook for another 4 minutes for the steaks to be medium rare. Remove the steaks from the skillet and add the vegetable medley, cook the vegetables stirring constantly for 2 to 3 minutes or until al dente, then distribute the amount evenly over the steaks.
More Recipes from CDF Proud Sponsor Udi's Gluten-Free
---
Pillsbury® Gluten-Free Chocolate Tarts
Serves: 12
Approximate nutrition per serving:
315 calories, 40g carbs, 17g fat, 3g protein, 374mg sodium, 21g sugar
Ingredients:
1/2 container Pillsbury® Gluten Free refrigerated pie and pastry dough
1 1/2 cups milk
1 box (4-serving size) chocolate pudding and pie filling mix (not instant)
1 cup semisweet chocolate chips
3/4 cup frozen whipped topping, thawed, or sweetened whipped cream
Fresh raspberries, chopped chocolate chips or mint leaves, if desired
Directions:
Heat oven to 425°F. Knead dough until softened and no longer crumbly. Press about 1 1/2 tablespoons dough in bottom and up sides of each of 12 ungreased regular-sized muffin cups. Prick bottoms several times with fork. Bake 5 minutes. Remove from oven; prick bottoms with fork. Bake 5 to 7 minutes longer, or until edges are golden brown. Cool 5 minutes; carefully remove from muffin pan to cooling rack. Cool completely, about 20 minutes. Meanwhile, in 2-quart saucepan, stir together milk and pudding mix; cook over medium heat as directed on box. Reduce heat to low; stir in chocolate chips. Continue cooking, stirring until chocolate is melted and mixture is smooth. Remove from heat; cool 15 minutes. Spoon about 2 tablespoons filling into each cooled shell. Refrigerate at least 30 minutes to chill. Top each with 1 tablespoon whipped topping. Garnish with raspberries.
 More Recipes From CDF Proud Sponsor Pillsbury®
---
Check out other recipes like this from more CDF Proud Sponsors:
Gluten-Free Betty Crocker