We have reached the end of the rainbow and luck is on our side. The hunt to find gluten-free recipes for St. Patrick's Day is over! This year, don't be green with envy – join in the celebration of delicious, traditional dishes of Ireland.
Avoid getting yourself in a pinch and try these recipes that are sure to impress Saint Patrick himself.
---
Gluten-Free Irish Soda Bread
Serves: 10
Approximate nutrition per serving:
187 calories, 33g carbs, 5g fat, 3g protein, 563mg sodium, 11g sugar
Ingredients:
1 ½ tsp baking soda
1 tsp gluten-free baking powder
¾ tsp salt
½ tsp xanthan gum
½ cup raisins
¼ cup sugar
3 tbsp butter, softened
1 egg
1 cup buttermilk
Directions:
Heat oven to 450°F. Grease cookie sheet with shortening or cooking spray. In medium bowl, stir together flour blend, baking soda, baking powder, salt and xanthan gum. Stir in raisins and set aside. In large bowl, beat sugar, butter, and egg with electric mixer on medium speed for about 2 minutes, or until light and fluffy. Gradually stir in flour blend mixture alternately with buttermilk, beginning and ending with flour blend mixture. Place on surface lightly sprinkled with flour blend. Knead gently 4 or 5 times. Place dough on cookie sheet; pat into circle about 1 1/2 inches thick. With sharp knife, cut X across loaf about 1/2 inch deep. Bake for 5 minutes; reduce heat to 350°F, and bake 25 minutes longer, or until golden brown and bottom sounds hollow when tapped. Remove from pan to cooling rack. Cool completely before slicing, about 4 hours. Serve with butter and jam, if desired.
---
Udi's Vegetarian Shepherd's Pie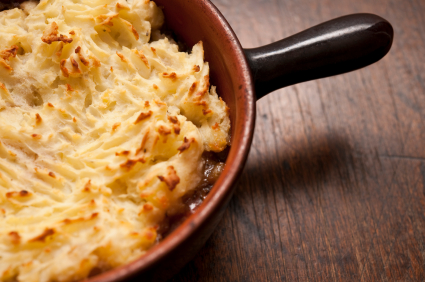 Serves: 8
Approximate nutrition per serving:
722 calories, 91g carbs, 33g fat, 13g protein, 1545mg sodium, 13g sugar
Ingredients:
Stuffing
2 loaves Udi's gluten-free bread (any kind), torn into pieces
3 carrots, shredded
 1 onion, chopped
3 celery stalks, chopped
2-3 cloves garlic, chopped
 1 stick butter (1/2 cup)
 2 cups (or more) gluten-free broth
2 tsp poultry seasoning
 salt and pepper to taste
Mashed potatoes
5 large potatoes
1/2 cup milk
2 tbsp butter
salt and pepper to taste
Mushroom Gravy
1 onion
8 tbsp butter, divided
1 lb mushrooms, sliced
3 cups water
3-4 vegetable bullion cubes
4 tbs milk
3 tbsp cornstarch
1 tsp poultry seasoning
salt pepper to taste
Directions:
Preheat oven to 350F.
For the mashed potatoes:
Peel (if desired) and boil potatoes until they are soft. Mash them, adding salt, pepper and butter.
For the stuffing:
Melt butter in sauce pan and add vegetables. Saute until soft and add seasonings. Stir in bread cubes and add broth until the mixture looks soft and wet, adding more broth as needed. Spoon the stuffing into a casserole dish. Smooth it out evenly and top with the potatoes, smoothing them out also. Dot with butter and bake for 40 minutes, until peaks just begin to brown. While this is baking prepare the gravy.
For the gravy:
Melt 4 tbsp of the butter in a sauce pan. Add the mushrooms and saute until they begin to juice. Remove mushrooms from the pan and set aside. Add 4 more tbsp of butter to the pan. When melted, add the water, boullion cubes, and spices, and bring to a boil. Add the mushrooms back into the pan. Pour the milk into a measuring cup and stir in the cornstarch. When the pot of broth and mushrooms boils, slowly pour in the milk and cornstarch mixture. Whisk until thick, turning the heat down once it has come back to a boil. Gravy will thicken a bit upon standing. Scoop large portions of the baked pie pie onto plates and cover with a generous amount of gravy.
---
Colcannon Bake
Serves: 8
Approximate nutrition per serving:
188 calories, 13g carbs, 15g fat, 5g protein, 388mg sodium, 1g sugar
Ingredients:
3 potatoes, peeled and quartered
1 pinch salt
6 tbsp butter, cut into small chunks
½ cup sour cream
1 egg
1 tbsp milk, or as needed
1 tsp butter, or as needed
3 cups shredded cabbage
2 leeks, chopped
1 small onion, chopped
2 Massel's chicken bouillon cubes
½ cup shredded cheddar cheese
Directions:
Place the potatoes into a large pot and cover with salted water. Bring to a boil, then reduce heat to medium-low, cover, and simmer until tender, about 20 minutes. Drain and allow to steam dry for a minute or two. Season the potatoes with salt, and mash with 6 tablespoons of butter, sour cream, egg, and milk.
Preheat oven to 350F. Grease a 2-quart casserole. Heat 1 teaspoon butter in a skillet over medium heat, and cook and stir the cabbage, leeks, and onion until the cabbage is tender and the onion is translucent, about 10 minutes. Crush 2 bouillon cubes into the cabbage mixture, and stir to blend and dissolve the cubes. Stir the cabbage mixture into the potato mixture until thoroughly mixed, and spoon into the prepared casserole. Bake in the preheated oven for 40 minutes; top with cheese, and return to oven until the cheese melts, about 10 minutes.
---
Beer Battered Fish'N'Chips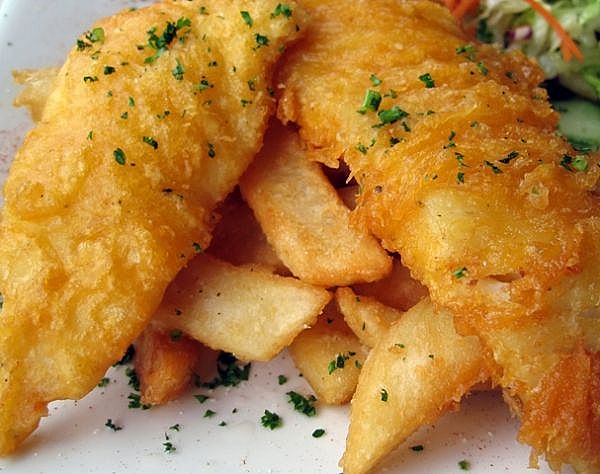 Serves: 3
Approximate nutrition per serving:
628 calories, 104g carbs, 3g fat, 37g protein, 617mg sodium, 2g sugar
Ingredients:
For the Batter
 2 ounces (1/2 cup) white rice flour
 1 ounce (1/4 cup) sweet rice flour
 3 ounces (3/4 cup) Bob's Red Mill cornstarch
 1 tsp baking powder
 1 tsp granulated sugar
 1/2 tsp salt
 1/4 tsp freshly ground black pepper
 3/4 cup ale (more as needed for batter consistency)
  1 pound boneless, skinless cod, cut into 5-inch pieces
  2 ounces (1/2 cup) white rice flour
  2 ounces (1/2 cup) cornstarch
For Frying
 2 quarts vegetable oil / light olive oil
Shallow fry also an option
Directions:
In medium bowl, whisk together cornstarch, white rice flour, sweet rice flour, baking powder, granulated sugar, salt, and black pepper. Add gluten-free beer. Whisk until batter forms. Batter should flow easily from a spoon, slightly thicker than the consistency of heavy cream. If it's too thick, add an additional tablespoon beer. Set aside. In large bowl or pie plate, whisk together remaining white rice flour and cornstarch.
Preheat oil to 375°F. Dredge cod, one piece at a time, into the white rice flour-cornstarch mixture. Shake off excess. Dip cod, one piece at a time, into batter. Allow excess batter to drop off. Carefully lower fish into hot oil. Cook until batter sets, about three minutes. Turn fish and cook until batter turns golden brown, about another three to five minutes. Frying time varies depending on the size of the cod pieces. Fry cod in batches, about two to three pieces at a time, depending on the size of your fryer.
Drain fish on paper towel-lined plate. Serve at once or transfer to rimmed baking sheet and keep warm in preheated oven for up to twenty minutes.
---
Corned Beef and Cabbage Soup
Serves: 4
Approximate nutrition per serving:
341 calories, 25g carbs, 15g fat, 15g protein, 674mg sodium, 3g sugar
Ingredients:
2 tsp olive oil
2 leeks, chopped (whites and light green only)
2 cloves garlic
3 medium carrots, chopped
1 yellow pepper, chopped
1 lb lean corned beef brisket (yields 9 oz cooked)
6 cups of water
2 bay leaves
1/4 cup chopped parsley, plus more for garnish
1 small head cabbage, cored and chopped
1 large potato, peeled and cubed
fresh pepper to taste
Directions:
In a large pot or Dutch oven, heat oil over medium low heat. Add leeks and sauté until soft, about 4-5 minutes; add garlic, carrots, and yellow pepper and saute about 2-3 minutes. Add corned beef, peppercorns or seasoning packet that comes with the corned beef, bay leaves, parsley and water; cover and bring to a boil. Simmer covered on low heat for 3 hours, until the meat becomes tender.
Remove the corned beef, set it on a cutting board and shred with a fork. Return it to the pot then add the cabbage and potatoes, taste for salt and pepper and adjust as needed. Cook until the potatoes and cabbage are tender, about 45 more minutes.
---
Key Lime Pie
Serves: 8
Approximate nutrition per serving:
349 calories, 46g carbs, 16g fat, 7g protein, 155mg sodium, 40g sugar
Ingredients:
1 gluten-free graham cracker pie crust (recipe follows)
400 mL of lowfat or nonfat condensed milk, or condensed milk alternative.
5 large egg yolks
1 cup lime juice (but if you want a more authentic taste, try to use Key limes)
1 tbsp grated lime zest
Crust
Directions:
Preheat oven to 350 F. Prepare a Graham cracker crust. It should be nine inch-round and unbaked. Mix all the ingredients. Beat until they turn smooth and creamy. Pour the mixture into the pie crust. Smooth the top. Bake for 10-15 minutes or until the filling solidifies. Set aside to cool then refrigerate for 2-3 hours. Garnish with whip cream and lime before serving.