This Mother's Day, show Mom how much you care by creating a meal the whole family will enjoy. Freshen things up with a Tropical Yogurt Parfait, followed by some savory Potato Rosti topped with salmon and sliced avocado. Then sweeten up the meal by serving a lemon lavender pound cake and Tangy Mimosas with a Twist.
---
Appetizer
Tropical Yogurt Parfait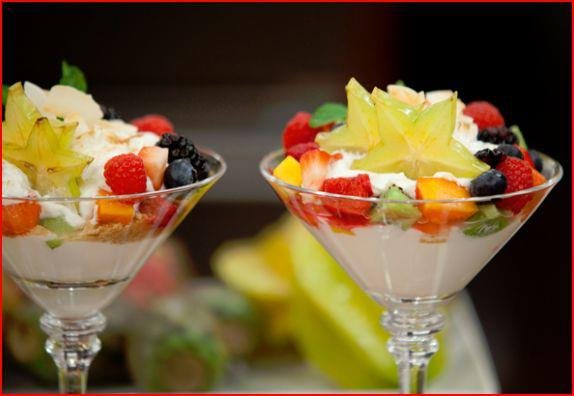 Serves: 4
Approximate nutrition per serving:
340 calories, 15g carbs, 4g fat, 1g protein, 45mg sodium, 8g sugar
Ingredients:
1 pint plain or vanilla So Delicious yogurt
1 cup crushed gluten-free graham crackers
1 sliced star fruit*
1/2 cup tropical fruit, diced
1/2 cup mixed berries
1/4 cup shredded coconut, toasted
4 martini or margarita glasses
Directions:
Spoon dollop of yogurt into base of martini or other festive glass; top with sprinkling of gluten-free graham crackers, followed by layer of diced fruit and a few berries. Repeat pattern until glass is filled, placing star fruit slices in center on top. Sprinkle with 1/4 of toasted coconut. Assemble remaining 3 parfaits.
*Tip: look for carambola (star fruit) that is beginning to turn golden yellow with slightly brown edges. Green fruit may be sour.
---
Main Course
Potato Rosti
Serves: 8
Approximate nutrition per serving:
441 calories, 67g carbs, 14g fat, 13g protein, 239mg sodium, 6g sugar
Ingredients:
8 large potatoes, peeled
1 large brown onion, coarsely grated
4 tbsp butter, melted
vegetable or canola oil
2 ripe avocados, peeled, pit removed, cut into thick wedges
12 slices smoked salmon
1/2 cup crème fraiche
1 small red onion, very thinly sliced
chives, chopped
lemon wedges
Directions:
Preheat oven to 250°F. Coarsely grate potatoes. Place in colander and add onion. Use your hands to squeeze out as much excess liquid as possible. Transfer to medium bowl. Add melted butter and stir to combine. Season well with sea salt flakes and freshly ground black pepper.
Add enough oil to large non-stick pan to reach a depth of approximately 1/2 inch and place over medium heat. Spoon 1 cup potato mixture into pan. Use spatula to flatten each portion to a 4 inch circle. Cook for 3-4 minutes each side or until golden brown and cooked all the way through. Use spatula to transfer to plate lined with paper towel; place in warm oven. Cook remaining potato mixture using same method, adding more oil if necessary.
Arrange two rostis on each serving dish. Top with avocado, smoked salmon, crème fraiche and red onion. Sprinkle with chives. Serve immediately with lemon wedges.
---
Dessert
Lemon Lavender Pound Cake
Serves: 8
Approximate nutrition per serving:
243 calories, 29g carbs, 14g fat, 5g protein, 220mg sodium, 14g sugar
Ingredients:
1 tsp baking powder
1/2 tsp salt
1 large lemon
1/2 cup unsalted butter, room temperature
1 cup sugar
2 eggs
1 tsp vanilla extract
1/2 tsp lemon extract
1/4 tsp lavender extract or 2 tbsp dried lavender
2/3 cups milk
Glaze
Squeeze 3 tablespoons lemon juice into small bowl. Stir in 3/4 cup powdered sugar until no lumps remain.
Directions:
Preheat oven to 350˚F and grease 9 x 5 loaf pan.
In small bowl combine flour, baking powder and salt; stir in zest of 1/2 lemon; set aside.
In another bowl, beat butter and dried lavender with mixer. Gradually add 1 cup sugar and beat until light and fluffy. Add eggs, one at a time, followed by vanilla, lemon and lavender extract (if not using dried lavender). Slowly add milk. When mixture starts to look curdled, switch to mixing with wooden spoon to prevent over beating egg.
Stir in flour mixture with wooden spoon just until well combined. Pour batter into prepared loaf pan; bake for approximately 55 minutes or until golden brown and inserted tooth pick comes out clean.
Place pan on cooling rack and use skewer to poke holes in top of cake while still hot. Drizzle or brush half of glaze over top; let cool for about 15 minutes. Run knife around edges of pan and turn loaf out onto serving plate. Drizzle remaining glaze over top; finish with more lemon zest.
---
Quick-Fix:
Use gluten-free pound cake (found in freezer section). Serve with fruit or another favorite topping.
Serves: 6
Approximate nutrition per serving:
180 calories, 27g carbs, 7g fat, 2g protein, 230mg sodium, 14g sugar
---
Beverage
Mimosas with a Twist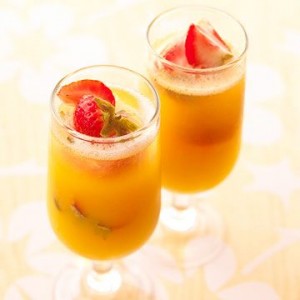 Serves: 2
Approximate nutrition per serving:
465 calories, 61g carbs, 1g fat, 3g protein, 8mg sodium, 49g sugar
Ingredients:
2 cups orange juice (not from concentrate)
1 cup Dole pineapple juice, chilled
2 tbsp grenadine
1 bottle (750 milliliters) champagne or sparkling wine, chilled (or 2 12 ounce cans) ginger ale or lemon-lime soda
Directions:
Stir together first 3 ingredients. Pour equal parts orange juice mixture and champagne into flutes. Garnish with frozen strawberries.