Five days of delicious, nutritious gluten-free breakfasts and lunches
Monday
Breakfast:  Zucchini Muffins
Easy to prepare on Sunday and have on-hand for rushed mornings, these muffins are full of fiber and B-vitamins, nutrients that are usually lacking from commercial gluten-free products. And so tasty your child won't even know he's eating his vegetables!
Serves: 12
Approximate nutrition per serving:
149 calories, 14g carbs, 10g fat, 1g protein, 110mg sodium, 4g sugar
Ingredients:
1 cup grated zucchini
1 1/4 cup gluten-free all purpose flour
1/4 cup flaxseed meal, buckwheat flour, or almond meal
1 tsp baking powder
1/2 tsp Bob's Red Mill baking soda
1/8 tsp salt
1/2 tbsp cinnamon
1/4 tsp allspice
1/2 cup coconut oil
1/2 cup sugar
1 egg + 1 egg white
1/2 tsp almond or vanilla extract
1/2 cup toasted pecans (optional)
Directions:
Preheat oven to 350° F. In a medium-sized bowl, whisk together flour, flaxseed meal, baking powder, baking soda, salt, cinnamon, and allspice. In a large mixing bowl, cream coconut oil together with sugar for one minute. Add egg, egg white, and almond extract, mixing thoroughly. Slowly stir in the dry ingredients, making a thick batter. Fold in the shredded zucchini and chopped nuts. Pour into greased muffins tins and bake for 35-40 minutes, until a toothpick inserted into the center comes out clean.
Lunch:  Turkey Lettuce Wraps
Skip troubles with gluten-free breads that crumble and fall apart by lunchtime… make it a wrap! Inside you'll find lots of nutrition: romaine lettuce is rich in folate, an essential nutrient for growing bodies; avocado delivers unsaturated fats, fiber, and vitamin B6 for energy; and the Rudi's tortilla wraps are hearty, with 5 g of fiber.
Approximate nutrition per serving:
325 calories, 28g carbs, 18g fat, 14g protein, 743mg sodium, 4g sugar
Ingredients:
Rudi's tortillas – plain, spinach, or fiesta
 romaine lettuce leaves
 sliced turkey
 sliced cheese (optional)
 avocado slices
 cucumber thinly sliced lengthwise
 California Classics Italian salad dressing for dipping
Directions:
Layer lettuce, turkey, cheese, avocado, and cucumber in tortilla and roll up tight, placing with the edges down to keep from unraveling. Pack salad dressing in a cup on the side for dipping. Include some berries and a treat of graham crackers to complete this simple, nutritious meal!
---
Tuesday
Breakfast:  Power Smoothie and Bar
Start the day off right with this quick blend of foods rich in antioxidants, phytochemicals, vitamins, and minerals to give your child's brain a BOOST for the entire school day! Pour in a plastic cup and grab a nutritious bar, like Nature Valley Roasted Nut Crunch, and off you go to school!
Serves: 2
Approximate nutrition per serving:
194 calories, 34g carbs, 7g fat, 7g protein, 65mg sodium, 17g sugar
Ingredients: 
2 cups fresh spinach
1 tbsp Hodgson Mill ground flaxseed
1/2 cup So Delicious plain yogurt or almond milk
1 cup frozen berries
1 banana
1 tbsp nut butter
Lunch: Tempeh Tacos
This vegetarian option will keep better in the lunchbox and pose less of a food safety risk than beef or chicken. Ingredients can be packed in a container with several compartments to keep from getting soggy, and provide a fun taco bar activity for lunchtime!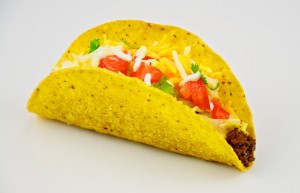 Serves: 8
Approximate nutrition per serving:
194 calories, 18g carbs, 9g fat, 10g protein, 105mg sodium, 0g sugar
Ingredients:
½ 15 oz can pinto beans, rinsed and drained
8 oz tempeh, diced
½ cup red onion, minced
1 tsp cumin
1 tsp paprika
1 tsp vegetable oil
2 tbsp cilantro, chopped
4 oz jack cheese, grated (or non-dairy alternative)
8 hard corn taco shells
Directions:
Sautee the tempeh in oil over medium heat. Add Massel Concentrated Liquid Stock, beans, red onion, cumin, paprika, and cilantro and heat through. Serve with shredded cheese, avocado, salsa, sour cream, or any toppings you prefer.
---
Wednesday
Breakfast:  Quiche Cups
This is another good recipe to make in bulk on the weekend (and involve the kids!) then freeze so you can easily heat-and-go throughout the week. The recipe also works for one single pie crust, or crust-less individual quiches if you're short on time.
Serves: 12
Approximate nutrition per serving:
230 calories, 19g carbs, 15g fat, 5g protein, 379mg sodium, 4g sugar
Ingredients:
1 package Pillsbury gluten-free pie crust
4 eggs
1 tbsp olive oil
8 oz mushrooms
½ cup red bell peppers, chopped
2 cups fresh spinach
2 cups milk (dairy or non-dairy)
½ tsp salt
¼ tsp pepper
Directions:
Preheat oven to 350° F. Form pie crust into lined muffin tins. Bake for 10 minutes and let cool. Sautee mushrooms and bell peppers in a skillet with the olive oil until the mushrooms start to brown. Add spinach and stir until spinach wilts. Add the vegetables to muffin tins with cooled pie crusts. In a medium bowl, whisk together the eggs, milk, and spices. Pour over vegetables. Bake in preheated oven for 30-45 minutes, until puffed and set. Store in the freezer in airtight bags. For best results, reheat in a toaster oven rather than microwave.
Lunch: Makeshift Lunchable with Black Bean Brownies
Recreate those expensive packaged lunches with classic cheese, ham, and crackers and include this special, secretly nutritious dessert. Choose a divided plastic storage container with several sections to get the same look!
Serves: 1
Approximate nutrition per serving:
283 calories, 23g carbs, 15g fat, 20g protein, 831mg sodium, 6g sugar
Ingredients:
gluten-free crackers
ham, cut with a small round cookie cutter
cheddar cheese or non-dairy alternative, cut with a small round cookie cutter
grapes
ants on a log: celery sticks filled with nut butter and topped with raisins
Black Bean Brownies (B-cubed)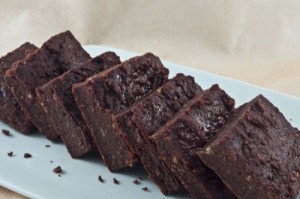 Serves: 16
Approximate nutrition per serving:
121 calories, 15g carbs, 5g fat, 1g protein, 90mg sodium, 8g sugar
Ingredients:
1 15 oz can black beans drained and rinsed very well
2 tbsp cocoa powder
1/2 cup gluten-free quick oats or gluten-free all purpose baking flour
1/2 cup pure maple syrup
1/4 cup coconut or canola oil
2 tsp pure vanilla extract
1/2 tsp baking powder
1/2 cup chocolate chips
¼ tsp salt
Directions:
Preheat oven to 350° F. Combine all ingredients except chocolate chips in a food processor or blender, and blend until completely smooth. Stir in the chocolate chips, and then pour into a greased 8 × 8 pan. Optional: sprinkle extra chocolate chips over the top. Bake for 15-18 minutes, then let cool at least 10 minutes before cutting. Yield: 9-12 brownies.
---
Thursday
Breakfast: Overnight Oats
Overnight oats are quick and simple, and easy to eat on the way to school. This no-cook breakfast is a great source of fiber, which is typically lacking in the gluten-free diet. Allow your children to mix and match different fruits and nuts to personalize their breakfast.
The night before, combine equal portions Bob's Red Mill Gluten-Free Quick Cooking Oats and milk/almond milk/soy milk (start with 1/2 cup each for a single serving). Store in an airtight container in the refrigerator overnight (at least 3 hours, preferably 5-8 hours). In the morning, add 1/4 cup dried fruit or coconut flakes, a handful of chopped pecans/walnuts/hazelnuts, a tablespoon of nut butter, fresh banana slices or berries, a pinch of cinnamon, cocoa powder, chia seeds, etc. Consider adding a 1/2 cup Greek yogurt for additional protein. Get creative!
Approximate nutrition per serving of oats & milk: 
223 calories, 35g carbs, 3g fat, 11g protein, 62mg sodium, 7g sugar
Lunch: Pretzel-Crusted Chicken Fingers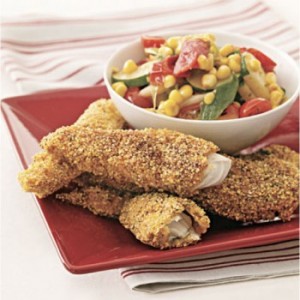 Serves: 4
Approximate nutrition per serving:
335 calories, 7g carbs, 18g fat, 35g protein, 320mg sodium, 1g sugar
Ingredients:
1 lb boneless skinless chicken breasts
6 eggs, beaten
Directions:
Preheat oven to 350° F. Soak chicken breasts in eggs. Crush the gluten-free pretzels by hand or in a food processor until fine crumbs form. Coat chicken in pretzel crumbs, and add salt and spices to taste. Bake for 40-50 minutes, or until desired doneness.
---
Friday
Breakfast: Quinoa Granola & Yogurt Parfait
A wonderful recipe for those with celiac disease or gluten sensitivity who have an intolerance to oats. Quinoa is a great source of protein, essential minerals, and fiber. This recipe is also lower in sugar than many commercially-available granolas.
Serves: 8
Approximate nutrition per serving:
326 calories, 46g carbs, 11g fat, 8g protein, 48mg sodium, 23g sugar
Ingredients:
2 cups quinoa flakes
1/2 cup chopped nuts (pecans, walnuts, hazelnuts, etc.)
1/4 cup Hodgson Mill milled flaxseed
2 tsp ground cinnamon
1/2 cup pure maple syrup
2 tbsp coconut oil, melted
2 tbsp vanilla extract
1/2 cup dried fruit (blueberries, cranberries, chopped cherries, etc.)
Directions:
Preheat oven to 325° F. Line large rimmed baking sheet with parchment paper or foil. In a large bowl, combine quinoa flakes, nuts, flaxseed and cinnamon. In a medium bowl, whisk together maple syrup, coconut oil, and vanilla extract until well blended. Add the maple mixture to the quinoa mixture and stir until well-coated. Spread mixture in a single layer on prepared baking sheet. Bake in preheated oven for 22-27 minutes or until golden brown. Let cool completely on pan. Transfer granola to an airtight container and stir in dried fruit. Store at room temperature for up to 2 weeks.
Alternate layers of unsweetened yogurt or non-dairy alternative and quinoa granola in a large cup. Top with fresh sliced fruit, grab a spoon, and enjoy!
Lunch: Mini Pizzas
What kid doesn't love cold pizza? Help yours not feel left out at the lunch table on pizza Fridays by providing these delicious minis. Pizza sauce is a brilliant place to sneak in important nutrients if your child is a picky eater… blend cooked vegetables into the pizza sauce and pour back into a jar, then store in the fridge for up to five days.
Approximate nutrition per serving:
200 calories, 40g carbs, 3g fat, 6g protein, 600mg sodium, 10g sugar
Ingredients:
Gluten-free English muffins, or Rudi's Gluten-Free Bakery pizza crust for a larger personal pizza
1 jar pizza sauce or marinara sauce mixed in a blender with 1 cup steamed spinach, 1 cup steamed carrots, and 1 cup steamed broccoli, until vegetables are well-incorporated
shredded mozzarella cheese or non-dairy alternative
toppings such as turkey pepperoni, fresh basil and tomato slices, or grilled chicken, corn, and olives
Directions:
Layer English muffins with sauce, cheese and desired toppings. Bake in toaster oven at 375° F for approximately 20 minutes, or until cheese is melted and crust is browned.