Send summer out in style with our Gluten-Free Labor Day recipes! Find potluck salads and side dishes, grilling recipes, picnic ideas, and crowd-pleasing desserts that everyone can enjoy before Summer is over!
Zesty Vegan Chickpea Salsa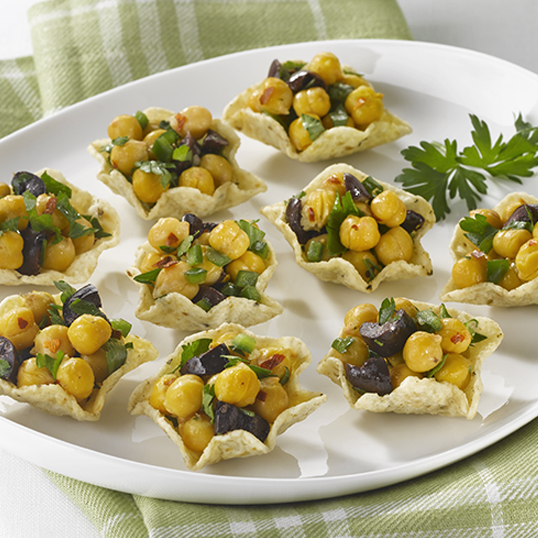 Prep Time: 20 minutes
Serves: 8
Approximate nutrition per serving:
122 calories, 14g carbs, 6g fat, 5g protein, 484g sodium, 0g sugar
Ingredients:
2½ cups canned chickpeas, rinsed and drained
½ tsp salt
1 ½ tsp cumin
1 clove garlic, chopped
2 tbs extra virgin olive oil
1 tsp red pepper flakes or ½ a fresh jalapeño, finely chopped
½ cup black olives, pitted and roughly chopped
2 tbsp freshly squeezed lemon juice
¼ cup flat leaf parsley
Freshly ground black pepper and salt to taste
1 bag Frito-Lay's Tostitos® Scoops!® tortilla chips
Directions:
Garlic paste: Mix salt, garlic and ½ a teaspoon of the olive oil to form a paste. Add chilli pepper flakes or jalapeño and chop to combine. Transfer to a small bowl and add remaining olive oil. Set aside.
In a medium bowl, combine chickpeas, olives, and parsley. Add the garlic paste and mix well. Add cumin and lemon juice, stir to combine, then taste for salt and pepper. Serve in Tostitos® Scoops!® tortilla chips
---
Tomato Nut Torte
Prep Time: 30 minutes
Serves: 12
Approximate nutrition per serving:
185 calories, 12g carbs, 13g fat, 7g protein, 212g sodium, 2g sugar
Ingredients:
9-inch piece cheesecloth
1 (8-oz.) package 1/3-less fat cream cheese (Neufchatel), softened
1 cup part skim ricotta cheese
3 tbsp pesto
2 tbsp chopped fresh basil
1/4 cup chopped sun-dried tomatoes (preferably smoked)
3/4 cup Blue Diamond Roasted Salted Almonds, chopped
Directions:Unfold cheesecloth then fold in half to make a square; press into the bottom of a 2-cup bowl. Beat cream cheese and ricotta together in a medium bowl with a mixer until light and fluffy. Spread 1/3 of the mixture into the bottom of prepared bowl, spreading all the way to the sides. Stir together pesto and basil and spread half the mixture over the surface. Top with 1/3 of the almonds and 1/2 the tomatoes. Repeat layers ending with a layer of cream cheese and chopped nuts. Bring up sides of cheesecloth to cover torte and press gently to compress all ingredients. Remove cheesecloth from surface and invert bowl onto a serving plate; peel away cheesecloth and discard.Serve with Blue Diamond Nut Thins within 4 hours.
---
Prep Time: 15 minutes the day before. 20 minutes when ready to serve.
Serves: 4
Approximate nutrition per serving:
532 calories, 100g carbs, 29g fat, 38g protein, 356mg sodium, 2g sugar
Ingredients:
2 lbs beef skirt steak or flank steak or pork tenderloin
1 cup Balsamic vinegar
½ cup olive oil
2 tbsp light brown sugar
1 Massel beef style Ultracube, just squeeze to break up.
2 sprigs rosemary
Freshly ground pepper
Directions:
Mix all ingredients in a large resealable bag, and marinate in refrigerator overnight. Remove from fridge 30 minutes prior to cooking. Grill for 2 to 4 minutes per side for medium rare, 4 to 6 minutes per side for medium. Remove from heat and let rest for 5 minutes before slicing.
---
Grammy Crisp Coated Ice Cream Balls with Chocolate Drizzle
Prep Time: 2.5 hours (including freezing time)
Serves: 12
Approximate nutrition per serving:

28 calories, 4g carbs, 1g fat, 1g protein, 12mg sodium, 2g sugar
Ingredients:
12 Crunchmaster Grammy Crisp crackers, crushed
¾ cup slow churned vanilla ice cream
1-2 tbsp gluten free mini chocolate chips
¼ teaspoon extra light olive oil or vegetable oil
Directions:
Place crackers in a plastic bag, seal and crush with a rolling pin or the back of a spoon.  Pour into a small bowl and set aside. Using a small melon baller, make 12 small ice cream balls, roll each in cracker crumbs and place on a tray lined with wax paper.  Freeze for ½-1 hour.  Once ice cream is refrozen, melt chocolate chips in a double boiler, stirring until completely melted. You can also microwave them 20 seconds at a time until melted, stirring in between, but take care not to overheat. Add oil to the melted chocolate and stir.  Using a flat spatula, transfer chocolate into a pastry bag or thicker plastic bag and cut a tiny tip off one edge.  Pipe the chocolate in a zigzag motion over the ice cream balls.  Refreeze for additional ½ to 1 hour.  Serve immediately.
Tips:
If you do not have a bag to pipe the chocolate, simply dip a fork into the melted chocolate and drizzle over the ice cream balls.  It's a fun way to get the kids involved too.  If you do not have a melon baller, you can form balls with two spoons.  They may not be perfectly round, but they will be just as delicious.