Highlights from CDF's 2016 National Conference: Everything You Need to Know Now
Watch the videos now:
Gluten Exposed With Peter H.R. Green, MD
Celiac Genetic Testing with Annette K. Taylor, MS, PhD
Introduction to Drug Development with Daniel C. Adelman, MD
The Gluten-Free Diet with Janelle Smith, MS, RD Add slider
In Search of a Celiac Medicine: The Story of AMG714 with Kristin Yarema, PhD
Patient Centered Outcomes Research with Talia Hassid, MSPH
---
 Ask-Our-Dietitian
Free webinars hosted by CDF Ask-Our-Dietitian Janelle Smith, MS, RD. Janelle provides resources to navigate a gluten-free lifestyle and interviews top experts to bring you the most up-to-date information on celiac disease and non-celiac wheat sensitivity. Want to Hear Our Webinars Live?
Sign Up Today!
Watch the Ask-Our- Dietitian Webinars
---
Celiac Disease and Mental Health
A wide range of psychological problems can arise for patients with untreated celiac disease or non-celiac wheat sensitivity. These can include difficulties adjusting to a new diagnosis of chronic illness as well as dealing with adherence to a gluten-free diet and other aspects of disease management. Conversely, those with celiac disease or non-celiac wheat sensitivity may be misdiagnosed with a psychiatric illness due to some of the neurological and psychiatric symptoms that can be seen in untreated disease.
---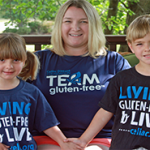 Personal Stories
For the celiac disease community, the greatest gift of all this season is to assure full recognition of celiac disease by the medical community with rapid diagnosis and treatment for the 2.5 million Americans still undiagnosed. CDF provides hope and help to people with celiac disease and gluten sensitivity and their loved ones.
---
Multimedia