Day 1:
Turkey Chili and Corn Bread
Servings: 8
Ingredients
1 1/2 teaspoons olive oil
1 pound ground turkey
1 onion, chopped
2 cups water
1 can (28 ounces) crushed tomatoes
1 can (16 ounces) kidney beans – drained, rinsed and mashed
1 tablespoon garlic, minced
2 tablespoons chili powder
1/2 teaspoon paprika
1/2 teaspoon dried oregano
1/2 teaspoon ground cayenne pepper
1/2 teaspoon ground cumin
1/2 teaspoon salt
1/2 teaspoon ground black pepper
Directions
Heat oil in large pot over medium heat. Add turkey; cook until evenly brown. Stir in onion; cook until tender.
Add water, tomatoes, kidney beans, garlic, chili powder, paprika, oregano, cayenne pepper, cumin, salt and pepper. Bring to a boil. Reduce heat to low; cover; simmer 30 minutes. Serve with side of steamed broccoli and fresh cornbread.
Cornbread
Servings: 8
Ingredients
3 eggs, large
1 cup buttermilk
For a thicker cornbread, as shown in picture, double this recipe
Directions
Preheat oven to 375°.
Mix all ingredients together and set aside. Place cast iron or heavy metal skillet in oven to preheat. Carefully spoon 1 tablespoon butter or shortening into hot pan and return to oven until butter melts. Carefully pour batter into hot skillet and return to oven. Bake for 20-25 minutes until golden brown or inserted toothpick comes out clean.
In a Hurry?
Make chili the night before; reheat in microwave. Substitute baked potato for cornbread.
---
Day 2:
Tacos or Taco Salad

Servings: 4
Ingredients
1 pound ground beef or any white fish
2 tablespoons all natural taco mix
1 head iceberg lettuce, torn into bite-size pieces or shredded
1 large tomato, chopped
1 avocado, sliced or chopped
salt to taste
Directions
Brown ground beef or sauté fish in medium frying pan until cooked through. Drain off fat; add 1/2 cup water and 2 tablespoons taco mix. Bring to boil and simmer 10 minutes or until liquid reduces.
While beef is simmering, chop and prep vegetables. Place lettuce into 4 medium size bowls; add beef, tomato and avocado. If desired, add black olives and corn tortilla chips.
---
Day 3:
Gluten-Free Falafel
Servings: about 32
Ingredients
2 cups vegetable oil for frying
1 tablespoon sea salt
2 teaspoons ground cumin
1 1/2 teaspoons turmeric
1 tablespoon garlic, crushed
3/4 cup hot water
1 teaspoon Bob's Red Mill baking soda
1 tablespoon chili pepper
1 teaspoon mustard seed
1 teaspoon garam masala
1 tablespoon ginger, crushed
2 tablespoons onion, finely chopped
1/2 cup frozen spinach, pressed and drained
1 cup Authentic Foods Falafel Mix
Directions
In a bowl, combine falafel mix, baking soda, salt, chili pepper, cumin, mustard seeds, turmeric and garam masala. Add hot water, stir well. Gradually add garlic, ginger, onions and spinach. Mix well and let rest for about 5 minutes.
Heat 2 cups oil in deep frying pan. When oil is hot, drop 1 tablespoon mixture into pan; cook 6-8 balls for about 5 minutes or until golden brown. Remove; drain on paper towels. Cooked falafel can be kept warm in oven.
Dipping Sauce
1/2 cup plain lowfat yogurt
1/2 cup lowfat or nonfat sour cream
1 small cucumber, peeled, seeded and finely chopped
1/4 cup fresh parsley, finely chopped
1/2 teaspoon dried dill weed
Blend all ingredients in small mixing bowl.
---
Day 4:
Caprese Panini
Servings: 1
Ingredients
1/2 ripe tomato, sliced
handful basil leaves
sliced mozzarella
2 slices bread*
2 tablespoons olive oil
1 teaspoon balsamic vinegar
Directions
Brush 1 tablespoon oil on one side of bread; repeat with other slice. Lay one slice bread oil side down; add layers of basil and tomatoes. Drizzle vinegar over tomatoes; top with sliced mozzarella. Place other slice of bread on top, oil side up.
Cook on panini press or hot grill pan until outside of panini is golden brown.
If using a grill pan, heat to medium; place sandwich in preheated pan. Using glass casserole dish or large pot, press down on sandwich for about 30 seconds; leave in place until bread is golden brown.
Flip sandwich and repeat. Panini is ready when outside of sandwich is toasted with grill marks and cheese has melted. Serve with tossed salad.
---
Day 5:
Tuna Salad
Servings: 2
Ingredients
1 can (6 ounces) light water-packed tuna, drained and flaked
2 tablespoons red onion, finely chopped
1 teaspoon parsley, minced
1 1/2 teaspoons dill
1/8 teaspoon garlic salt
2 tablespoons fat-free mayonnaise
1/8 teaspoon dried thyme
1/8 teaspoon pepper
pinch cayenne pepper
1 tablespoon reduced-fat sour cream
3 cups spring mix salad greens
1 medium tomato, cut into wedges
Directions
In a small bowl, combine first eight ingredients. In another bowl, combine mayonnaise and sour cream; stir into tuna mixture. Divide salad greens between two plates. Top with tuna mixture and tomato wedges. Serve with gluten-free crackers** and orange slices.
---
Day 6:
Turkey Sandwich
Servings: 1
Ingredients
gluten-free turkey
lettuce
tomato
avocado
mustard
Directions
Toast gluten-free bread*; lightly spread mustard onto bread; add remaining ingredients. Serve with baked chips and apple slices.
---
Day 7:
Quinoa Salad With Asparagus, Sun-Dried Tomato, Feta & Roasted Chicken
Servings: 4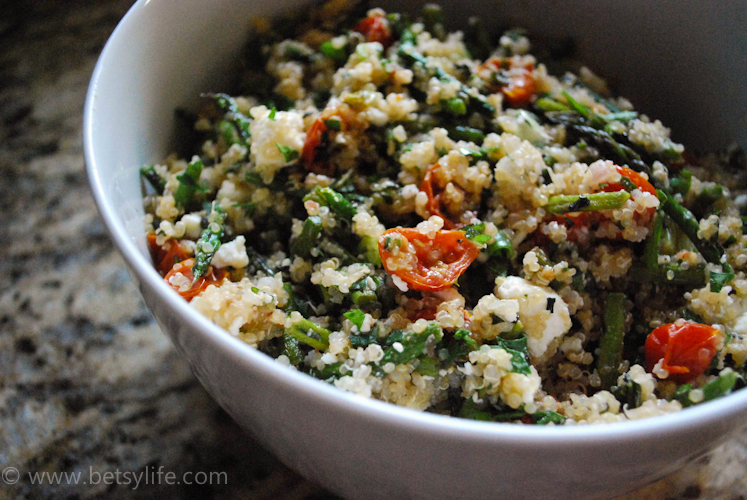 Ingredients
1/2 cup quinoa, uncooked
10 ounce package fresh asparagus
6 tablespoons sun-dried tomatoes, julienne cut
1/2 cup crumbled feta cheese
2 ounces roasted chicken breast
1 tablespoon olive oil
salt and pepper to taste
Directions
Rinse and cook quinoa as directed on package. Microwave asparagus as directed on package about 2 minutes. Cut into 1" pieces. Transfer cooked quinoa into large bowl. Add asparagus, tomatoes, feta and chicken breast. Toss with oil; sprinkle with salt and pepper.
---
* Gluten-Free Bread
Deanna's: Multigrain, Whole Grain or Cinnamon Raisin
Rudi's: Cinnamon, Multigrain or Original
Canyon Bakehouse: 7-Grain, Cinnamon, Mountain White or Deli Rye
Food For Life: Bhutanese Red Rice, Brown Rice, Exotic Black Rice, Rice Millet or Rice Pecan
** Gluten-Free Crackers
Two Moms and the Raw: Garden Herb, Pesto or Tomato Basil
Crunchmaster: Sea Salt or Multigrain
Mary's Gone Crackers: Herb, Onion, Caraway, Original or Super Seed
Blue Diamond: Artisan Nut-Thins