Day 1
Spinach and Oven-Roasted Tomato Omelet
Servings: 2
Ingredients
1 tablespoon olive oil
1 cup baby spinach leaves, washed and dried
4 large eggs, beaten
1/2 cup oven-roasted tomatoes, roughly chopped
1/2 cup feta cheese, crumbled (optional)
Directions
Heat olive oil in a small non-stick pan over medium-low heat.
Saute spinach for 2-3 minutes or until wilted; add tomatoes; toss to combine. Using a spatula, spread vegetables evenly over surface of pan.
Pour in beaten eggs and shake pan to distribute evenly.
When bottom is set (about 2 minutes), loosen omelet from pan to prevent sticking. Sprinkle cheese evenly on one side; flip omelet. Cook until golden brown; flip and cook for one minute longer.
Cut omelet in half using plastic spatula; transfer to two plates; serve hot with a side of gluten-free toast* and orange slices.
---
Day 2
Berries and Hot Cereal

Servings: 6
Ingredients
3/4 cup Cream of Rice cereal, uncooked
4 cups fat-free milk or milk alternate
1/4 cup sugar
1/3 cup whipped cream cheese spread (optional)
1/3 cup blueberries
1/4 cup walnuts
Directions
Bring milk to boil in medium saucepan on high heat. Gradually add cereal and sugar, stirring constantly until well blended. Cook 3 to 5 minutes or until thickened, stirring constantly.
Add cream cheese spread; cook until melted and mixture is well blended, stirring frequently.
Add blueberries and walnuts; stir gently until blended. Serve immediately.
---
Day 3
Pamela's Simply Delicious Waffles
Servings: 2
Ingredients
2 large eggs, separated
1 1/2 cup Pamela's Gluten-Free Baking & Pancake Mix
2/3 cup water or soda water
1 tablespoon oil
Directions
Whip egg whites until stiff.
In a separate bowl combine Pamela's mix, egg yolks, water and oil; stir until no lumps form.
Fold in stiff egg whites and bake immediately in preheated, greased waffle iron. Serve waffles hot with butter and syrup; top with sliced strawberries.
In a hurry? Use commercially prepared waffles.**
---
Day 4
Gluten-Free Bagels
Servings: one dozen bagels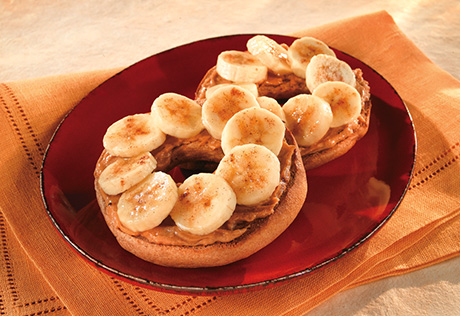 Ingredients
2 packets active quick-rise dry yeast
2 cups warm water
5 1/2 cups all-purpose gluten-free flour
3 tablespoons sugar
2 teaspoons salt
2 quarts boiling water
2 teaspoons canola oil
Directions
In a small bowl or measuring cup, combine yeast and warm water. Allow yeast to dissolve in water (about 5 minutes).
Combine flour, sugar and salt in a bowl. Using stand mixer with dough hook, combine until a well forms.
Pour water/yeast mixture into center of well. Using medium speed, mix until smooth dough forms. Cover dough with plastic wrap and allow to rest for 10 minutes.
Divide dough into 12 equally sized pieces. Roll each piece of dough into a cylinder; moisten ends and fuse together to form a ring. Place bagels on baking sheet and cover with plastic wrap. Allow dough to rise for 30-40 minutes or until volume has increased about 30%.
While dough is rising, bring two quarts of water to a boil; add canola oil. Preheat oven to 400˚.
Poach bagels a few at a time in simmering water for 30-45 seconds. Remove from water and place on greased baking sheet.
Bake for 15-18 minutes or until tops are golden; cool. Serve with peanut butter or almond butter for added crunch.
Alternately, use ready-made bagels.***
---
Day 5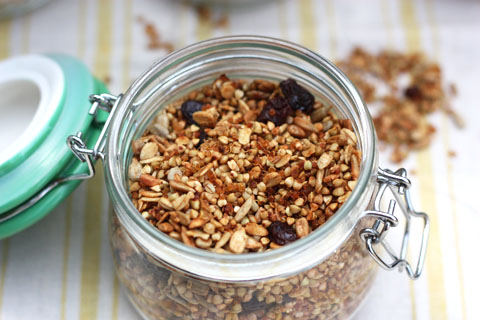 Choose a cereal from the list below; add milk. Serve with yogurt and mixed berries on the side. Alternately, omit milk and sprinkle cereal on top of yogurt and berries.
---
Day 6
Breakfast Burrito
Servings: 1
Ingredients 
2 large eggs
1 tablespoon water
1/2 red or green bell pepper
1/2 avocado
1/4 cup shredded cheese (optional)
1 1/2 teaspoons extra virgin olive oil
1 8 inch sprouted corn or brown rice tortilla
pinch of freshly ground black pepper
Directions
In a small bowl, beat eggs with water and pepper.
Heat oil in small skillet over medium heat. Add egg mixture; stir slowly, occasionally scraping bottom and sides of pan. Continue cooking until eggs reach desired consistency.
Wrap tortilla in foil and heat at 300˚ until steaming (about 5 minutes).
Place eggs on warmed tortilla; top with salsa of your choice.
recipe courtesy of Dr. Oz
---
Day 7
Sunday Lox
Servings: 1
Ingredients
smoked salmon
cream cheese
thinly sliced red onions (optional)
capers or olive tapenade (optional)
Directions
Toast bagel; spread with cream cheese; add salmon. If desired, top with onions and/or capers.
---
* Gluten-Free Bread
Deanna's: Multigrain, Whole Grain, or Cinnamon Raisin
Rudi's: Cinnamon, Multigrain or Original
French Meadow Bakery: Cinnamon Raisin, Multigrain or Sandwich
Canyon Bakehouse: 7-Grain, Cinnamon, Mountain White or Deli Rye Style
Food For Life: Bhutanese Red Rice, Brown Rice, Exotic Black Rice, Rice Millet or Rice Pecan
** Gluten-Free Waffles
Van's Natural Foods: Ancient Grains, Original, Blueberry, Apple Cinnamon or Flax Seed & Buckwheat
Nature's Path: Buckwheat Wild Berry
*** Gluten-Free Bagels
Kinnikinnick: Plain, Cinnamon Raisin or Blueberry
Katz: Sesame, Poppy Seed or Everything