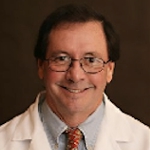 Pediatric Gastroenterology
CDF Medical Advisory Board Member
Daniel W. Thomas, MD, is chief of the Division of Pediatric Gastroenterology and Nutrition. Along with overseeing the activities of the division, Dr. Thomas co-directs the Liver and Intestinal Transplant program at Children's Hospital Los Angeles.
General Information
Gender

Male

Languages Spoken

Armenian, English
Education
School

University Of Cincinnati College Of Medicine

Graduation Date

1974
License
License Number

31040

Expiration Date

3/31/2015

Verification Date

Verified 10/12/2013
Hospital Affiliations
Children's Hospital Los Angeles
The information contained in this web site is being made available as a public service by Celiac Disease Foundation (CDF). No posted information or material provided is intended to constitute medical or professional advice. The information contained in this web site for healthcare practitioner license and education information was supplied from state license boards. CDF makes no representations or warranties, either express or implied, as to the accuracy of any posted information and assumes no responsibility for any errors or omissions contained therein. Furthermore, no warranty, express or implied, is created by providing information through this web site and the presence of an individual healthcare practitioner on the web site does not in any way constitute an endorsement by CDF. No one shall be entitled to claim detrimental reliance on any views or information, whether provided by or accessed through this web site, or to claim any duty on our part to update posted information or to protect the interests of those accessing this web site. In no event shall CDF be held liable to you or anyone else for any decision made or action taken in reliance on such information or views. For more information regarding a healthcare practitioner's license please contact the state licensing board responsible for the license directly.