Celebrate this year's Summer holidays with a bang by mixing up old classics with a sweet summer twist. Grill it up – gluten-free with these cool recipes, sure to please Dads, Grads, neighbors, family and more! Make them work for a crowd, by offering dairy-free, vegan, and meat filled options as well. Throw on some burgers and kabobs, and serve salads and dip on the side. Finish the meal off with gluten-free cookies like no one has ever had before!
---
Summer BBQ Recipes
Mango Salsa Burgers
Ingredients
Directions
Follow package instructions to cook burgers. Toast hamburger buns to taste. Make sure to use a dedicated gluten-free toaster! Place burgers inside buns and evenly top with mango salsa, avocado, cheese or anything else you might like!
Ingredients
1 cup mango chunks, sliced thinly
1/3 cup red onion, chopped
1/2 cup fresh tomatoes, chopped
1/4 cup fresh cilantro, chopped
2 teaspoons finely chopped jalapeno (optional)
Directions
Mix all ingredients together in a bowl. Tastes better as it sits. At least 1/2 hour prior to eating is recommended.
---
Bacon Pimento Cheese Dip
Ingredients
8 slices Jones Dairy Farm Dry Aged Bacon
1 cup gluten-free mayonnaise
4 oz cream cheese
1 (4 oz) jar diced pimentos, drained
2 jalapeño peppers, seeded and minced
2-3 scallions, diced
2 cups extra sharp cheddar cheese, shredded
2 cups pepper jack cheese, shredded
salt and pepper, to taste
Directions
Cook bacon in a large deep skillet or sauté pan over medium heat until crisp. Transfer to paper towel and crumble.
In medium bowl, stir together bacon, mayonnaise, cream cheese, pimentos, jalapeño peppers, scallions and shredded cheese. Season with salt and pepper.
Evenly spread the mixture in a 2-quart casserole dish. Bake for 25 minutes or until cheese is completely melted and bubbly.
Serve with Multi-seed Crunchmaster Crackers
---
Summer Salad
Ingredients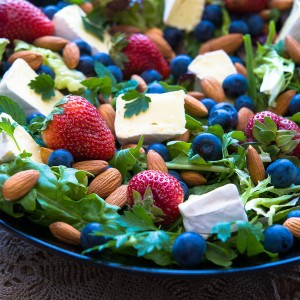 5 ounces mixed lettuce leaves, washed and spun dry
1 pint blueberries, washed
1 pint strawberries, washed and hulled (if desired)
few sprigs parsley
few sprigs mint
4 1/2 ounces Brie cheese, sliced into small pieces
1 tablespoon olive oil
1 teaspoon red wine vinegar
1/2 teaspoon honey
salt and pepper
Blue Diamond almonds (optional)
Directions
Place first six ingredients in serving bowl and arrange attractively. Make dressing by mixing all other ingredients in small cup until thoroughly blended and then drizzle over salad. Top with almonds or other nuts if you'd like.
---
Tomato, Peach, and Burrata Salad

Ingredients
3 tablespoons basil
2 large peaches
2 large tomatoes
6 ounces burrata cheese
Dressing
  1/3 cup balsamic vinegar
Directions
Pour balsamic vinegar into small saucepan; bring to boil over medium-high heat. Reduce heat to low and let simmer, swirling pan occasionally, until reduced to about half original amount (about 15 minutes). Remove from heat and set aside.
Combine all salad ingredients in bowl; add dressing and toss.
---
Grilled Chicken Fajita Kabobs
Ingredients
Fajita Marinade
2 tablespoons olive oil
1 tablespoon fresh lime juice
2 teaspoons chili powder
2 teaspoons cumin
1/2 teaspoon garlic powder
1/2 teaspoon dried oregano
1/4 teaspoon salt
1/4 teaspoon ground black pepper
1/4 teaspoon crushed red pepper flakes
1/2 Bottle of New Planet Blonde Ale (optional)
Kabobs
1 pound boneless, skinless chicken breast, cut into 3/4 inch pieces
1 red onion, cut into 3/4 inch pieces
1 red pepper, cut into 3/4 inch pieces
1 yellow pepper, cut into 3/4 inch pieces
1 green pepper, cut into 3/4 inch pieces
Directions
In a small bowl, whisk together oil, lime juice, chili powder, cumin, garlic powder, oregano, salt, black pepper and red pepper flakes.
Place chicken in plastic bag with fajita marinade. Seal bag; shake; ensure all chicken pieces are well coated. Place bag in refrigerator for 1-8 hours.
Preheat grill on medium-high heat. Thread marinated chicken, onion and peppers onto skewers. Discard leftover marinade.
Place kabobs on lightly oiled grill; cover. Cook until chicken is opaque throughout, about 8-12 minutes, turning once or twice. Transfer to warmed platter and serve immediately.
Note — if using wooden skewers, soak them in water 20 minutes prior to use.
---
Char-grilled Chocolate Chip Cookies
8 TBSP butter (1 stick) or butter alternative
1 egg (large) or egg replacer (prepared)
Directions
Bring butter or alternative to soft room temp. Combine with Pamela's Mix and one large egg (or prepared egg replacer) and mix until completely incorporated. Dough will appear dark, oily and slightly crumbly. Press together heaping TBSP dollops and place on foiled wrapped cookie sheet. Lightly flatten and bake in closed grill for 18 – 20 minutes.