Make Sure Kids With Celiac Disease Are Diagnosed Before Developing Other Chronic Conditions and Irreversible Damage
83% or 2.5 million Americans with celiac disease are still undiagnosed and suffering needlessly. With a simple blood test readily available and covered by health insurance, this is inexcusable. This fall, make a special, tax-deductible contribution to help CDF increase the diagnosis rate of celiac disease, and break the cycle of visits to school health offices, missed school days, endless pediatrician visits, unexplained symptoms, and needless suffering.
With your generous gift, CDF will provide training and materials to school health and physician offices to educate both healthcare workers and patients to "Consider Celiac-Request the Test," helping thousands of suffering children and adults get diagnosed this year.
Donate now to educate school nurses, aides, and pediatricians to "Consider Celiac" at the onset of symptoms.
Become an Advocate for Celiac Disease Awareness and Testing
CDF provides you with the tools to advocate for our children and for all people with celiac disease and gluten sensitivity.
How Can I Make A Difference?
By ordering or printing Patient Info Cards to put in your physician's office, or a "Why Does My Stomach Hurt All the Time?" Poster for your school health office, you are helping thousands of children, their parents and our celiac community get the help they need to reach a timely diagnosis.  And thanks to the generosity of the CDF National Board of Directors, for each set of Patient Info Cards or Poster you purchase, an equal number will be distributed by CDF to areas of critical need.
To purchase Patient Info Cards and Posters – or to make a donation to the 2014 Back-to-School Campaign – please click here.
Patient Info Cards
Each set of Patient Info Cards includes 25 CDF "Consider Celiac- Request the Test!" rack cards with one display holder . The card is 4 inches by 9 inches, double-sided, and in color. It contains an explanation of celiac disease, common symptoms associated with the disease, a symptoms checklist link, and relevant statistics. To view the PDF of the info card, please click here.

Poster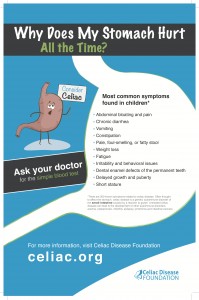 The "Why Does My Stomach Hurt All the Time" Poster is 11 inches by 17 inches, and in full color. It uses kid-friendly animation, and lists common pediatric symptoms associated with celiac disease. These posters will be a helpful resource to display in your school health office. To view the PDF of the Poster, please click here.
It Takes A Village:
The goal of our campaign is to advocate and educate, so what better way to start than with your friends? When you purchase your Patient Info Cards or Posters, bring the news to social media! Post the following "It Takes a Village" slogan to your Facebook and elect some friends to get in on the action!
#ItTakesAVillage… I just became an advocate for Celiac Disease Foundation and pediatric celiac disease awareness! I am now helping  thousands of children and their parents get the help they need to reach a diagnosis. I now elect  ____ and ____  to join the campaign by 1) Ordering Patient Info Cards or a Poster for your doctor or school health office 2) Donating to CDF or sharing this post.
Don't forget to post the link to the donation page, along with this post, electing two new people to take action!
Double Your Donation! For every Patient Info Pack or Poster purchased, CDF is able to send an additional pack or poster to areas of critical need.